INNOVATING
THE CHALLENGE:
being close
despite the
distance

THIS YEAR SIGNIFICANTLY ACCELERATED ADOPTION OF PICKUP AND HOME DELIVERY SERVICES IN ALL OUR FORMATS. THE INVESTMENTS WE MADE IN THE PAST AND THE OPERATING MODEL WE DEVELOPED ENABLED US TO RESPOND QUICKLY AND PROVIDE ESSENTIAL SERVICES TO OUR CUSTOMERS IN THIS NEW NORMAL
INNOVATING INSIDE AND OUTSIDE THE STORE
In our history we have constantly worked to strengthen and innovate our logistics infrastructure, stores, and digital platforms, and in recent years we have transformed our way of working to become an agile organization.
TRANSFORMING TO OFFER THE BEST EXPERIENCE
The talent of our associates and the efficient use of technology has led us to build a solid and more efficient omnichannel business. We have leveraged the power of collective expertise and the international experience that offers us the capability of our scale.
Driven by one of our strengths, which we call "Powered by Walmart", we have tested technologies and processes that have proven successful in other markets of our business. In this way, we have managed to reduce implementation times and the use of capital thanks to the best practices and expertise tested in other countries where Walmart operates.
Our transformation is related to a process of constant evolution. This year, the maturity achieved by our teams is reflected in our performance and results
EVOLVING OUR ECOMMERCE
The evolution of our eCommerce platforms has entailed 15 years of constant efforts and innovation.
EXTENDING OUR CAPABILITIES
Without a doubt, the greatest disruption experienced this year was in the omnichannel business as a result of changes in customer behavior caused by the health contingency. Within this context, we adapted and quickly expanded.
We managed to enable the On Demand service in 63 Walmart and Superama stores, of which 35 were enabled in under 72 hours. We have a total of 321 stores with On Demand operation: 228 Walmart units and 93 Superama stores, plus Walmart Express.
At the beginning of the health crisis, Bodega Aurrera did not have the infrastructure necessary to support the Despensa a tu Casa (Grocery Home Shopping) operation. However, during the year, we enabled the service in 101 units, positioning our value proposition in 18 states in Mexico. For Sam's Club, we enabled all 164 clubs with On Demand capabilities, an initiative that has been well received by our members.
Throughout the year, we developed more than 10 applications. Among them is Sam's Club Ticket Audit, which enables us to verify the purchase ticket without friction for our members, reducing shrink and waiting time due to verifications when leaving the Club. We have also implemented more than 20 new functions at Flex POS, our system for managing the point of sale. The purpose is to adapt to new regulations, build new business opportunities, and digitalize processes.
ENHANCING OUR HOME DELIVERY
To support the demand for home delivery, we doubled last-mile delivery capabilities during pandemic peaks, and we increased the number of pickers by 2.5 times. Likewise, we implemented a crowdsourcing model, which provides service to 28 stores, giving us the opportunity to serve more customers.
DIGITAL SHOPPING EXPERIENCE
With measures like these, we kept our four formats within the top five in customer preference and loyalty, measured through NPS.
We executed work plans to offer our customers a new and better seamless shopping experience through the following actions:
IN-STORE SHOPPING EXPERIENCE
We expanded our self-checkout service in all our formats, which has become even more important due to social distancing measures. Bodega Aurrera is currently the format where this service has gained more traction. In Walmart and Superama stores, this year we added the service to a total of 38 new stores, 34 in Walmart and four in Superama stores. Currently, 22% of all transactions of enabled stores consist of self-checkout operations.
Sam's Club was the first membership club to feature self-checkout services. We also developed 80 new functionalities and improvements for the point of sale. At Walmart Heredia Este in Costa Rica, we implemented the self-checkout system in our first store in the region.
OMNICHANNEL EXPERIENCE
We offer a complete shopping experience that allows customers to shop either in our stores or through our websites, apps, and even messaging services such as WhatsApp.
INNOVATING TO ADD VALUE
Our continued transformation efforts include innovations with integrated concepts adding value to our proposition, which allows us to ensure the positive use of our scale to contribute to the care and well-being of families and communities in the region
WALMART EXPRESS
This year, we welcomed Walmart Express, a new format offering:
Proximity and safety: Close and modern stores
Price and quality: Fresh and quality products, added to our commitment to Every Day Low Price
Agility: Featuring multiple access points offering the best shopping experience
The main pillars of Walmart Express are to maintain the proximity and convenience featured by Superama, the quality, and freshness of its perishables, as well as the low-price offer found in Walmart stores.
BAIT
(BODEGA AURRERA INTERNET AND TELEPHONY)
With This year, we launched BAIT, our mobile connectivity service offering prepaid mobile phone service, inclusive and affordable for Mexican families. This new proposition, driven by the best-prepaid offer in Mexico, consists of unlimited connectivity.
Customers can purchase this offer at our Bodega, Mi Bodega, and Walmart formats. We are committed to offering an inclusive and affordable service to ensure that the population living in remote areas has access to Internet and can live a better life.
We are investing and developing the leading retail ecosystem in Mexico, which will be one of the main engines driving our growth
Money Centers
We seek to maximize the savings of time and money for families in a safe environment, where they can carry out different financial transactions, all in one place. In Costa Rica, we strengthened the service payment offer with the launch of Money Centers in our Walmart and MásxMenos stores. The objective is to offer optimal customer service with the required bio-safety measures and the ease of paying for a wide variety of services.
In Central America, 2020 was a year of innovation and growth in financial products and services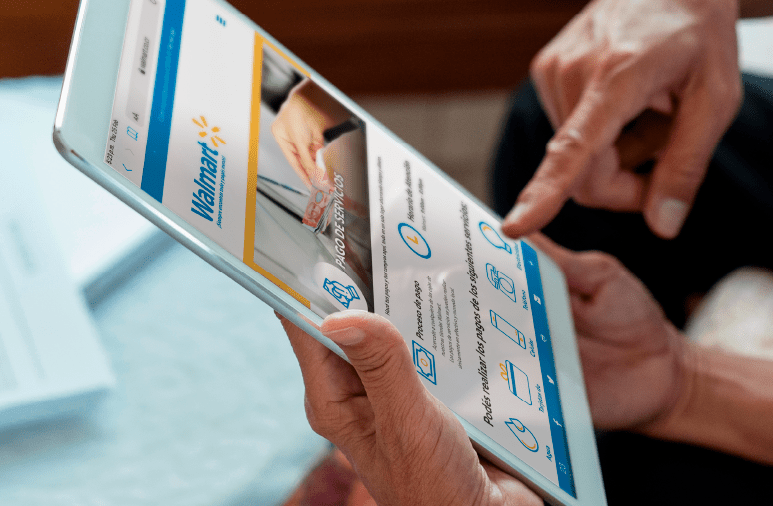 CAMPAIGNS AND COMMUNICATION WITH OUR CUSTOMERS
In our Company, digitization has become part of our new normality. We have transformed the traditional form of contact into a more dynamic and far-reaching digital form, integrating an increasing number of business areas, and listening to and learning from our customers.
We use drones to monitor construction sites remotely with walkthroughs conducted via virtual tours. This allowed us to resume our growth plan at a faster pace once the authorities lifted restrictions.
we held more than ten virtual concerts to position our main seasonal events, such as Hot Sale and Fin Irresistible, as well as the launches of the Bodega Aurrera online website, Grocery Home Shopping, and BAIT. With these events, we reached more than 20 million people.
At Sam's Club, we decided to center our efforts on our eCommerce sales strategy by reinforcing investments to drive traffic to our website and app through channels such as Facebook and Google.
For Bodega Aurrera, communication with our more than eight million followers on social media flowed in an extraordinary way