1,996
billion pesos channeled through social
impact programs
+2
million of beneficiaries









COMMUNITY SUPPORT
Our community support program focuses on four pillars:
FOOD
SAFETY
SUPPORT DURING
NATURAL DISASTERS
VOLUNTEERISM AS A MEANS TO PROMOTE CIVIC MINDEDNESS
In 2021, 1,996 million pesos were allocated to projects that contribute to creating a positive and sustainable change in communities, through a combination of in-kind and monetary assistance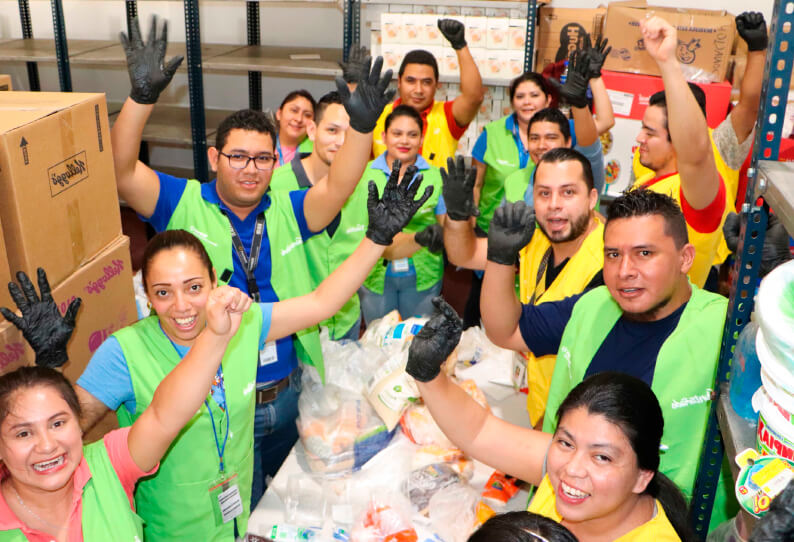 2,093,085
beneficiaries impacted
1,585,034 Mexico
508,051 Central America
+1,996
million pesos channeled through social impact program
1,771,086,415 Mexico
225,869,675 Central America
167
NGOs working in alliance with the Company to maximize the impact and scope of our social program
127 Mexico
40 Central America
Over 36,000 tons of food donated to 134 food banks, benefiting more than 1.8 million people in the region
FOOD SECURITY
As on e of the largest retailers worldwide, our purpose is to provide people access to affordable, nutritious, and safe food products to meet the needs and preferences of all households.
As a result, we are working together to reinforce and extend the food bank system, to improve the mechanisms that recover tons of food, and to channel this food to people who need it the most
30,417
ons of food donated Mexico
5,909
tons of food donated Central America
DISASTER RELIEF
Our Center for Operation Continuity (COC) and planning and operation practices enable timely identification, assessment, and classification of natural disasters and safety issues that affect our operations, associates and/or the communities we serve.
In 2021 we channeled 232 tons of assistance
In Central America there was a natural disaster in Turrialba, Costa Rica and our response included in-kind donations of 18 tons of food, hygiene, personal care and baby products, among other basic commodities
Supported in 11 natural disasters in 15 states in Mexico
214
tons of support during disasters
In Mexico, our logistics capacities and contact with Company sourcing were made available, in addition to monetary donations for the following disasters
Rainfall
Chihuahua
Durango
Estado de México
Guerrero
Jalisco
Puebla
San Luis Potosí
Sinaloa
Sonora
Veracruz
Zacatecas
Torrential rainfall
Hidalgo
Jalisco
Nayarit
Querétaro
Sinaloa
Tamaulipas
RELIABLE PRODUCTS
Our specialized team for responsible marketing communication ensures that we offer complete transparency regarding the nutritional content of our products, in addition to product innovation and nutritional profiles that include reduced salt, sodium, fat and sugar content, among others
We continue increasing healthy and nutritional products that are:
Gluten-free
Sugar-free
Organic
Zero trans fats
Low in sodium
MEXICO GET WELL
We have joined Mexico Get Well, a Consumer Goods Forum initiative that began in 2019, comprising 12 market leaders in consumer products. The purpo se of the initiative is to promote among customers the importance of making conscious purchasing decisions that allow them to adopt healthy lifestyles.