SUPPORT DURING
NATURAL DISASTERS
Mexico and Central America are highly vulnerable to natural disasters and humanitarian emergencies. Existing poverty and a lack of prevention programs make these problems even more severe and put the population at even greater risk.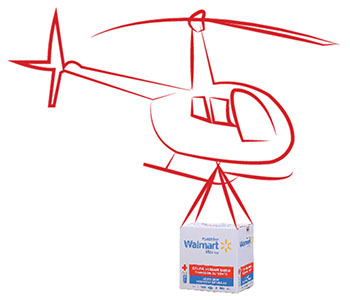 Because of this reality, 10 years ago the Walmart Mexico Foundation entered into an agreement with the Mexican Red Cross for the creation of a revolving fund for 5,000 pantry donations, which included basics and primary need items to be sent and distributed among the members of communities hit by natural disasters. Said fund enables us to render assistance in record time to victims living in the most remote regions and to shelters and community kitchens who need it the most. In addition, thanks to the Suburbia campaign -Clothed in Hope- we send clothing items to 46,000 families during the winter season.
Moreover, in support of helping Small Supplier Program, in conjunction with World Vision of Mexico, in 2015 the Walmart Mexico Foundation created a revolving fund meant to assist small businesses in agriculture and hand-manufactured goods that had been affected by some natural disaster. After analyzing damages, needs, conducting training in recovery of living spaces, risk reduction, awareness, operation and offering prevention workshops, financing was provided to recover production activities.
In 2006 we created the Center for Operations Continuity to protect our associates during disasters, reestablish unit operations in record time, ensure merchandise supply in as little time as possible to affected areas, and open assistance channels for our customers through collection centers or drives to support the community. Through the Center, this year we were able to provide assistance for 136 associates to whom we granted a total amount of 7.2 million pesos in cash. G4-EC3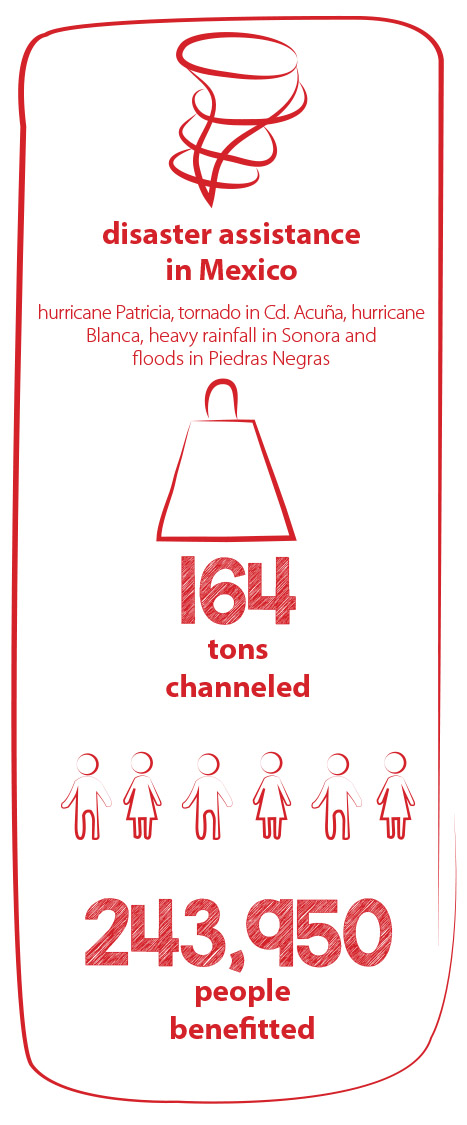 In Guatemala we delivered basic products and food items to render support for victims of the landslides that resulted from torrential rains in Santa Catarina Pinula. In addition, customers donated 17,000 products in 17 stores adapted as collection centers through our Friendly Hands Program; all of this was channeled to the National Coordination for Disaster Mitigation (CONRED, per its acronomy in Spanish). We also lent support to the crisis faced by the Guatemala Health System with an in-kind donation of 13,000 tons of essential items so the hospitals could continue serving the basic needs of the community.