FOOD SECURITY
We are one of the primary donors for food banks in Mexico and Central America; this is possible because our stores, clubs, and distribution centers channel, through not-for-profit organizations, in- kind donations of unsellable merchandise that is suitable for human consumption.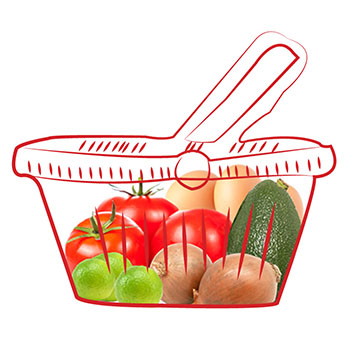 Selection of the institution is based on its ability to pick up the in-kind donations at the unit(s) assigned, as well as their capacity to generate greater social impact as a result of their programs and list of beneficiaries. In order to be selected, the institutions must submit to a compliance process that includes due diligence and the execution of a contract.
In Central America we also consolidate and expand food banks by delivering financial donations with the purpose of opening two additional food banks in Costa Rica and Honduras, thus hoping to benefit some 15,000 people each year.
We also support communities suffering from food poverty by driving the construction of backyard farms, gardens, and rainwater catchment systems. This program fosters sustainable nutrition, increases in disposable income, and the empowerment of women. In addition, it helps build a development platform for production capacities.
In El Salvador we offered 14 Nutrition Workshops to promote nutritional eating habits at home, with which we are contributing overall to the development of children in communities and benefitting 1,160 people. These workshops include talks, nutrition counseling, healthy recipes, and advice provided by a medical specialist.